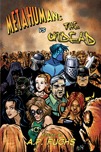 Christmas has come and gone, but the Holidays are not over. Not when you can curl up with a good book and take a vacation between its pages.
Join us as we celebrate seven years in business with a Boxing Week sale from Coscom Entertainment!
All eBooks are 50% off at Smashwords, with most sitting in the $2.50 range.
Now's a great chance to load up your Kindle, Nook or iPad with these great monster and superhero titles.
Book list, coupon codes and links below.
Thanks, and enjoy reading these discounted books, but hurry as the coupon is only good for one week and expires at the end of the year.
Coupon codes displayed after the book's title and author.
A Red Dark Night: A Novel of Blood, Gore and Terror by A.P. Fuchs – DR33D
Animal Behavior and Other Tales of Lycanthropy: A Chilling Collection of Werewolf Horror by Keith Gouveia – UK46G
Anna Karnivora: A Vampire Novel by W. Bill Czolgosz – BN25J
April: A Love Story by Peter Fox – JM44Y
Axiom-man: A Superhero Novel (The Axiom-man Saga, Book 1) by A.P. Fuchs – NZ67X
Axiom-man: Doorway of Darkness (The Axiom-man Saga, Book 2) by A.P. Fuchs – KU48L
Axiom-man: First Night Out (The Axiom-man Saga, Episode No. 0) by A.P. Fuchs – BE35U
Axiom-man: The Dead Land: A Superhero/Zombie Thriller (The Axiom-man Saga, Episode No. 1) by A.P. Fuchs – EY48Y
Bigfoot War by Eric S. Brown – WU22N
Bigfoot War 2: Dead in the Woods by Eric S. Brown – QD32A
Bigfoot War 3: Food Chain by Eric S. Brown – XB84X
Blood of the Dead: A Zombie Thriller (Undead World Trilogy, Book 1) – SC39X
Born to Bleed: A Thriller by Ryan C. Thomas – UN38R
Children of the Dragon: A Fantasy Novel by Keith Gouveia – XT99W
Cult of the Damned (The Wraith Series, Book Three) by Frank Dirscherl – VR39R
Dead Science: A Zombie Anthology edited by A.P. Fuchs – ZQ26P
Don of the Dead: A Zombie Novel by Nick Cato – JT89H
Emma and the Werewolves by Jane Austen and Adam Rann- CC64A
Eternal Unrest: A Novel of Mummy Terror by Lorne Dixon – TZ24P
Flame of Surrender (The Ferryman and the Flame, Book One) by Rhiannon Paille – NN68D
Hound: The Curse of the Baskervilles by Sir Arthur Conan Doyle Lorne Dixon – SF68N
Life of Death (Blood of my World Novella Three): A Paranormal Romance by A.P. Fuchs – QJ38H
Memories of Death (Blood of my World Novella Two): A Paranormal Romance by A.P. Fuchs – QJ52B
Metahumans vs the Undead: A Superhero vs Zombie Anthology edited by A.P. Fuchs – GU58K
Possession of the Dead: A Zombie Thriller (Undead World Trilogy, Book 2) by A.P. Fuchs – SK56N
Revolt of the Dead: A Zombie Novel (Death Puppet Trilogy, Book One) – VY65K
R.I.P.: A Zombie Novel by Harrison Howe – WS62N
Robin Hood and Friar Tuck: Zombie Killers by Paul A. Freeman – PK65N
Snarl: A Werewolf Thriller by Lorne Dixon – UJ84F
The Black Cat and the Ghoul (Coscom Entertainment Monster Novella Series) by Edgar Allen Poe and Keith Gouveia – GU44Y
The Lifeless: A Zombie Thriller by Lorne Dixon – AT32F
The Summer I Died: A Thriller by Ryan C. Thomas – QS78Z
The Undead World of Oz: L. Frank Baum's The Wonderful Wizard of Oz Complete with Zombies and Monsters by L. Frank Baum and Ryan C. Thomas – MD97P
The Weaponer (Coscom Entertainment Monster Novella Series) by Eric S. Brown – TS38V
The Wraith (The Wraith Series, Book One) by Frank Dirscherl – GK39Y
Valley of Evil (The Wraith Series, Book Two) by Frank Dirscherl – ZM55W
Vicious Verses and Reanimated Rhymes: Zany Zombie Poetry for the Undead Head edited by A.P. Fuchs – VE42M
World War of the Dead: A Zombie Military Thriller by Eric S. Brown – HU49K
Zombie Fight Night: Battles of the Dead by A.P. Fuchs – DP59A